CORPORATE SUSTAINABILITY AND
RESPONSIBILITY REPORT, 2018-19
Dagon International and its member companies are regularly involved in various responsible business initiatives and remain committed in providing assistance to its stake holders.
Key activities among its priorities include Healthcare and Education Assistance Programs. The donations in substantial amount were carried out in post Nargis, the strongest cyclone in 100 year history of Myanmar. Our donations cover from basic personal hygiene kits to new roofing materials for reconstruction of schools, clinics and houses. The Dagon Group donated $1.4 million worth 100 bedded hospital in Pyapone Town, Irrawaddy Division. In 2015, we donated Kyats 40.9 million to build ten houses for the land slide victims in Chin State. In 2017-2018 fiscal year, we donated USD 15265.32, to charitable and /or non- profit organizations. The most recent and single largest donation in the history of the Dagon Group was contribution of 300,000,000 in Kyat toward the fund of Union Enterprises for Humanitarian Assistance, Resettlement and Development (UEHARD) in Rakhine State in Ocober 2018.
Myanmar Clinical Psychology Consortium is a volunteer-based group of Myanmar and international
health professionals and community partners. Currently, we engage in partnership with them in their education and training programmes on clinical or counseling psychology.
Sustainability Managers/Officers and Committees
The Dagon Group is a vast organization with large number of members and several sections being involved in diversified industries requiring specific expertise. The Code of Conduct, Corporate Governance and other company policies are reinforcing all company members to make sure their performance of duties is ethically, socially and environmentally friendly in addition to fulfilling the requirement of national and international laws and norms / standards for different types of business. Dagon Group has designated Daw Khine Soe Mal as its Sustainability Manager to create strategy and outline approach to ensure the Company's business goals and value chain are aligned with its sustainability goals.
As Contact Point Officials of the Dagon Group, the Directors, Doctor Daw Moe Mya Mya and U Kyaw Zaw Aung will respond to the enquiries raised by the stakeholders on human rights, including land, and health, safety and environment.
In terms of sustainability, the members of Human Resource Development Department (HRDD) are assisting the Management and others divisions making them easier for communication, consultation and learning in technical matters. The HRDD also open path ways for exchange of information with external stake holders including training institutions and labour offices.
The team work culture of Dagon Group also encourages employee engagement in responsible business programs and philanthropic activities. Currently, we are preparing for 2019 Dagon Sports Day and U Khin Oo, the Deputy Director of Dagon International Limited is playing a key role in the Event Management Committee.
(Please, see also CSR POLICY DIL)
Sustainability Strategy of Dagon Group
UN Global Compact
As a significant guideline for companies worldwide in minimizing the negative environmental and social
impacts of business, the UN Global Compact was launched in July 2000. In response to the call of the
United Nations to align our strategies and operations with universal values, a number of Myanmar
companies including Dagon International Limited joined the Compact after agreeing at a signing
ceremony in May, 2012, Yangon and based on the ten universally accepted principles in the areas of
human rights, labour, environment and anti-corruption. We are contributing toward achievement of sustainability objectives provided in the Compact.
In promoting and realizing the following UN Global Compact Principles, we have adopted the three pronged approach firstly, as part of the daily business operation, secondly implementing educational, social and environmental development programs, and thirdly by providing humanitarian and rehabilitation assistances to the communities affected by eventual disasters.
Human Rights
Principle 1: Businesses should support and respect the protection of internationally proclaimed human
rights; and
Principle 2: make sure that they are not complicit in human rights abuses.
Labour
Principle 3: Businesses should uphold the freedom of association and the effective recognition of the right
to collective bargaining;
Principle 4: the elimination of all forms of forced and compulsory labour;
Principle 5: the effective abolition of child labour; and
Principle 6: the elimination of discrimination in respect of employment and occupation.
Environment
Principle 7: Businesses should support a precautionary approach to environmental challenges;
Principle 8: undertake initiatives to promote greater environmental responsibility; and
Principle 9: encourage the development and diffusion of environmentally friendly technologies.
Anti-Corruption
Principle 10: Businesses should work against corruption in all its forms, including extortion and bribery
.
Guiding Principles on Business and Human Rights
We also support the
UN Guiding Principles on Business and Human Rights
to implement the United Nations' "Protect, Respect and Remedy" Framework. We are cooperating with the protection policies of the government through compliance of labour laws in Myanmar. We highlight our responsibilities towards the Guiding Principles by publicizing and implementing the corporate policies on Whistle Blowing, Human Rights, Labour Standards, Anti-corruption, Environment, Agriculture, Corporate Governance, Code of Conduct, Grievance Mechanism and Customer Health and Safety.
2019 Targets
At present, we are in the process of organizing the Work Place Coordinating Committees with a view to promoting the good relationship between the employer and employees. The Committees comprising equal numbers of representatives selected from both parties will be trusted with the tasks of negotiation and coordination on the conditions of employment, terms and conditions and occupation safety, health, welfare and productivity. The Committees will also be responsible to amicably settle the grievance made by either side to achieve a Win-Win solution. We are also expecting the implementation of capacity building programs in sustainability topics.
Reporting on Practical Actions
We had participated in the Global Compact since 2012 and the Board of Director address sustainability issues as an integral part of business projects.
We post the Communication on Progress (COP) online in the UN Global Compact website to report on our implementation as Practical Actions to stakeholders in a transparent and public manner. Annual COPs from 2013-14 to 2017-18were also uploaded in our website along with the relevant company policies providing in
ABOUT US Page to publicly communicate our commitment to sustainability.
Outcomes and Impacts on the Global Goals
Wages, health and well being
Our company has a policy in place to pay adequate wages to all its employees. We also have a program to promote the health and well-being of employees. During the last fiscal year, the total amount spent on the company's health and well- being programme was USD 60711.91.
Gender Composition of the Highest Governing Body and Gender Pay Gap
Female and male represent 40% and 60% of the Board of Director and gender pay gap does not exit between them.
New hires in 2017-18 fiscal year
We hired 155 new employees and relative age breakdown is with 44% under 30 years old, 35% for the age range of 30-50 years old and 21% over 50 years old. Minority groups represent 9% of the new hires.
Corporate Social Responsibility (CSR)
By actively contributing to educational, social, ecological, cultural, and other projects and programs, we strive to contribute to the solution of societal problems. We enthusiastically promote and engage in social contribution activities that help strengthen communities to be enrichment of our society. In addition to our core CSR activities, Dagon International is a member of the MCEF (Myanmar Construction Entrepreneurs Federation) an organisation in which we are involved in their annual contributions to non-profit/ charitable organisations and relief efforts provided to affected areas across the country. Recently, the MCEF were solely responsible for the reconstruction and rehabilitation of 175 households that were destroyed by the collapse of the Swar Resevoir in August, 2018, Yay Thar Shay City, Bago Region. We also provide our technica expertise and experience back to our communities by providing vocational training in the construction filed such as brick laying, cement grading, etc. to apprentices in cooperation with the NSSA( National Skills Standards Assocation).
Supporting Philanthropic Activities
Dagon Group also support various initiatives that are related to community livelihoods, social associations, education, religious, environment and health sectors. Likewise, we ensure that the organizations we support are reputable and trustworthy. Dagon Group spent
MMK 333.8 million
for
FY2018-2019 and FY2019
. For example, last year, we donate to Union Enterprise for Humanitarian Assistance, Resettlement and Development
(UEHARD) in Rakhine State
which value is MMK 300 million and Orphanage Care Center at Naypyitaw which value is MMK 2.8 million.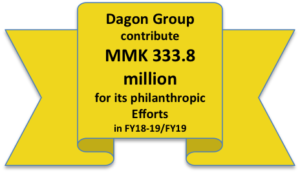 [envira-gallery id="47555"]
Flood Relief
[envira-gallery id="47527"]
Sports Day Activities
[envira-gallery id="47540"]
Teak Plantation
[envira-gallery id="47534"]
Accommodation Arrangement for 300 Medical Staffs at Grand Golden View Tower during COVID-19 Period
Covid-19 အရေးတွင်ရှေ့တန်းမှ တိုက်ပွဲဝင်နေတဲ့ကျန်းမာရေးဝန်ထမ်းများအတွက် နေထိုင် သွားလာ စားသောက်ရေးအတွက် အဖွဲ့ဖွဲ့ပြီး နေထိုင်ရေးအတွက် ရန်ကုန်တိုင်းဒေသကြီးလျှပ်စစ်၊စက်မှုလက်မှုနှင့် လမ်းပန်းဆက်သွယ်ရေးဝန်ကြီး ဒေါ်နီလာကျော်သည် အစိုးရအဖွဲ့ဝင်များနှင့်အတူ မတ်လ (30) ရက်နေ့က ဆရာဝန်များ ၊ ဆေးဝန်ထမ်းများ 300 ထားရှိရန်အတွက် Dagon Group Chairman ဦးဝင်းအောင် တို့ Grand Golden View Tower ကွန်ဒို အဆိုပြုထားပြီးဖြစ်သည်။ ဝန်ကြီးဒေါ်နီလာကျော်၏ညွှန်ကြားချက်အရ အိပ်ဆောင်များအား သန့်ရှင်းခြင်းနှင့်လိုအပ်ချက်များပြုပြင်ခြင်းကို Dagon Construction ကုမ္ပဏီမှအရေးပေါ်ဝင်ရောက်ဆောင်ရွက်ပေးလျက်ရှိသည်။ Dagon Group မှအမျိုးသားရေး နိုင်ငံအရေးအတွက် ဝိုင်းဝန်းကူညီလျှက်ရှိပါသည်။ [envira-gallery id="69391"]
Dagon Group's 2020 Rainy Season Plantation
[envira-gallery id="69208"]